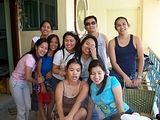 Then bonding w/ friends


My heart is in my hands
My head is in the clouds
My feet have left the ground
My life is turning around and round
And every voice inside my head is telling me to run like mad

Aaack! I am singing my heart out here and still this boredom and random loneliness is not getting out of my system real soon. I miss my old friends in Carnival. I miss the bonding. I miss loud moments of laughter, humiliation and still end up perfectly where we started. Despite the work pressure then, we can still manage to laugh it out and bug each other to death. But now, I dont feel so home at times. Not that I really care but of course, it is a matter of choice. Some sort of a wall is blocking me to grow. Sigh. Just de-stressing.