what makes it so annoying than seeing you everyday. life can be so unfair or maybe fair enough to allow people with indifferences to fuse. i just cant help myself to be furious. hate is such a strong word. but to this person, i can say it out loud. I HATE SEEING YOU. geez, i have never been this horror-strucked to anybody else in my entire 24 years but to this person. and im afraid i have to deal with it whilst time permits. i may be overly reacting and egocentric but, i just cant help it. aaaargh! i dont want this person around. huhuhu. this person is physically a nightmare. for goodness sake, sana man lang magpaka-humble. kahit yun lang, ok na sana eh. kasi yun na lang pwedeng baguhin. hahaha. it would take the best doctors to do some major overhauling. provided that, these doctors have sufficient equipment to fit on this thick-skinned mammal. haaay! just de-stressing...
************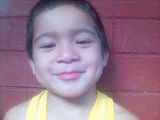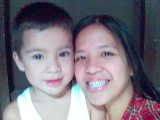 Aielo
yo habla umpuco espanol. i suddenly remembered my nephew during my spanish class. meet my nephew aielo jozua. those teasing smile is the product of a spanish mom and a pinoy dad (of course). i have a classmate who reminded me of him. except, my nephew is far adorable than him. hehehe. we had this duo seatwork and we happened to be buddies. little did i know that he is of the same genus as my nephew. well, just a thought. i miss my nephew :(
speaking about my class. it gets more exciting every meeting. it is so cool. even if im totally exhausted coming from a shift and all, i still feel the zest. i just love it. i dont care if i have to wake up 3:30am the next day. the spanish class is more like a therapy. it relieves tension from my routines. muchas gracias. estoy feliz. my tongue is so eager to speak the language. hehehe. syempre, our dear teacher is giving us praises for learning it pretty fast. hmmm, bola! just to let you know, we drop her off to take a bus ride home. hehehe. should i take what she said as a compliment? watcha think? i hope that someday ill reap what i sow. now that i have started to pursue a dream, i have to move forward even if it meant no savings. savings is nothing when im stuck at being myself 4 years ago. i want to become a person that will inspire people on the years to come...