I got this award from Badet.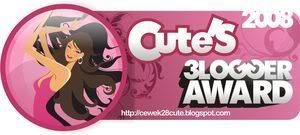 Random Things About Me? Read on:


I love to experiment on traditionally cooked dishes. I always alter some of the ingredients.
I blog hop everywhere.
I stay up late on weekends watching my favorite TV series.
Sunday is iron day for office clothes. (Independence is what you master when you're away from home)

I'm anticipating a big change in my work which I am not happy about.

I want to go for a swim but the unpredictable rain stops me huhu
I want to travel soon.
I wish to fast forward this month to December.
I wish I could go back home and live the life I had 2 years ago, when mom was still alive. I will trade for anything just to have that life again.
I want to go back to school.

I'd like to buy the SLR Cam I've been wanting to have.
Someday I want to visit: The World
I need to practice wearing heels again - taller this time! Ack!
If I'll ever win a huge amount of money, I'll put up a foundation for the elders.

I'm tagging:
Rona