Wild Cats are back! Hurrah to all High School Musical fans out there like me.


The third installment of the blockbuster movie is to hit the theatres soon and I'm pretty sure a lot of fans are dying to watch the screening.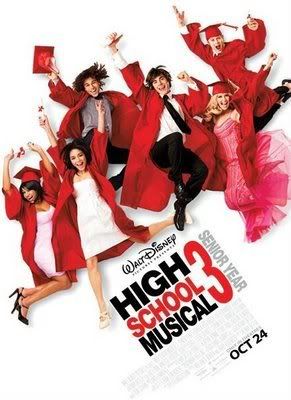 Since it is the senior year for HSM, the movie would all be about graduation and growing up. I remember way back 11 years ago when I graduated in high school (quite long time) I was very active in outdoor activities. I was a part of the campus dance group and joined sports activities to develop my talents and potential skills. And who would miss high school without having a crush? During my time of course I did have an apple of my eye, though he never knew he was haha. Anyways, my graduation was pretty alright. Me and my friends had our proper goodbyes. We exchanged contact numbers and had the best of fun all night after the ceremony. It was the first time I ever drunk liquor then *winks*
The hardest part of being with high school friends would be graduation. It is difficult to suddenly change from the usual routine of seeing friends almost everyday of the week. It is hard to say goodbye not only to them but to the whole memories spent in high school. All good and bad days with teachers, academic opponents and crushes is difficult to let go. But despite the parting ways, graduation (on the brighter side) is not the end but a new beginning for each one to grow and be a level higher in making their dreams come true. Just like Troy Bolton, who knows if he'll be the next Michael Jordan? So let's think of graduation as the opener for bigger horizons. Cheers to all graduates!
Catch Walt Disney Pictures' High School Musical 3: Senior Year in cinemas from October 24!