Whoa, time flies so fast I didn't realize it took me over 2 weeks to update my blog. I've been caught up with work a lot lately. Sigh, I'm feeling pretty exhausted with just a little amount of time to spare. I only had a day to rest. Poor me, I had to stretch the day in doing all of my chores i.e. attend mass, going to the grocery, ironing clothes and the cooking. I think to multi-task is not only applied at work but also in our daily stuffs especially without anyone to rely on but ourselves. It sucks big time! I'd really like to trade places with Posh Beckham who multi-tasks in lavish ways i.e. being a mom, wife to famous husband, shopping shoes, bags, a jet-setter, etc. Haha!
***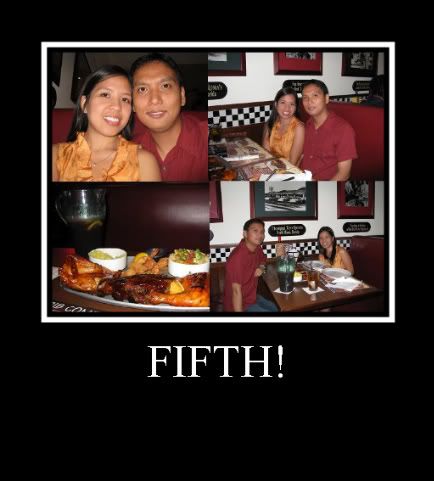 Last Friday May 23, Archie and I went to dine at Tony Roma's in celebration to our 5th year together. Weee! It was definitely memorable. We had a sumptuous meal. Yum! I missed eating steak so much. We're both a fan of steaks but I rarely see restaurants that cater to it here, or maybe I wasn't too much of an explorer to check out all the places, I could be wrong though. I remember back in the Philippines we are one of the frequent diners of this local steakhouse in Baguio called Sizzling Plate. They serve the best Australian Porterhouse in the city. Well, no place like home they say, hehe. Anyway, I'd like to treasure that night not only for the superb meal but for the reason of celebrating. It is cliché but I gotta say, 5 years is FIVE years. Hehe, I'm grateful to have such a wonderful boyfriend who understands and accepts the best and WORST of me. I love you! Hugs and Kisses!
On Saturday, I attended our company sponsored training titled The Art of Service held at the Singapore Orchid Country Club. Goodness! The place is really at the far end of where I stay. Huhu, I had to wake up some 3-hours before call time to get ready, aiyu! But despite the hassle, I did enjoy the training. It was an added experience and an opportunity to mingle with colleagues. Oh and I love the place, it was so serene. Wish I could stay there longer. Hehe (in my dreams) One more thing, for the first time, I got to play soccer – in the car park. Haha! Nice, right? Overall, it was a fun-packed weekend. What about you, how did you spend your weekend?
Ciao!